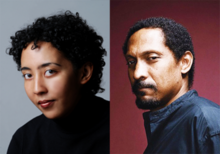 We're delighted to share the news that our Fall 2021 and Spring 2023 Finzi-Contini lecturers, Namwali Serpell and Percival Everett, are finalists for the National Book Critics Circle (NBCC) Award for Fiction.
Considered among the most prestigious of literary prizes, the NBCC Awards honor the finest books published in English in the previous year across six categories: Fiction, Nonfiction, Biography, Autobiography, Poetry, and Criticism.
On January 31, 2023, the NBCC announced the finalists for the 2022 publishing year, naming Serpell's The Furrows (Hogarth) and Everett's Dr. No (Graywolf), along with three other books, for the fiction award. The awards will be presented in New York City on March 23, 2023.
Before then, you can attend Percival Everett's Finzi-Contini Lecture "Abstraction, Nonsense, and the Real in Fiction" on Thursday, February 23 at 4:30pm in the Humanities Quadrangle (HQ), L02, and read Namwali Serpell's "Race Off: The Fantasy of Race Transformation" in The Yale Review.
The Finzi-Contini Lectures are a cherished annual literary event at the Whitney Humanities Center, established in honor of professor and literary scholar Bianca Maria Finzi-Contini Calabresi.