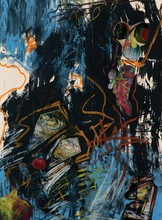 "The absence of meaning is a kind of meaning, isn't it?"
So asks Percival Everett in his essay "Abstraction and Nonsense: The Real in Fiction (link is external)," published this week by The Yale Review. Everett first delivered a version of this essay as the 2023 Finzi-Contini Lecture.
Shortly after this year's lecture, Everett was awarded the Windham-Campbell Prize for fiction. The awards will be presented during an annual international literary festival at Yale in the fall. We look forward to welcoming Everett back to campus and celebrating his literary achievements.