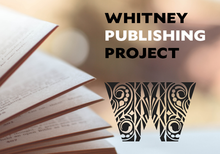 With the aim of helping scholars in the humanities navigate the publication process—from first article to first book and beyond—the Whitney Humanities Center is launching a new initiative: the Whitney Publishing Project. Headed by our associate director Diane Berrett Brown, who brings decades of experience as an editor for scholarly publications, including Diacritics, the Whitney Publishing Project strives to encourage and bolster publishing in the humanities in a variety of ways, including workshops, editors in residence, and grants for faculty editing major journals. Supporting the project is our director Alice Kaplan, who has a particular interest in bridging the academic-general audience divide.
Alan Thomas, Editorial Director at the University of Chicago Press, will join us as the project's first Editor in Residence next week. The project kicks off with a "meet the editor" breakfast and conversation featuring Kathryn Lofton, FAS Dean of Humanities and series editor at University of Chicago Press, and Alan Thomas on Monday, November 7 at 9:30 a.m. in Fellows' Hall (HQ 134). For the remainder of his week-long residency, he'll be meeting one-on-one with scholars from across the humanities at Yale to discuss book manuscripts. These appointments—which were reserved on a first-come first-serve basis—booked up in a single day, suggesting a widespread desire for programming focused on publishing in the humanities.
We warmly welcome all faculty and postdoctoral fellows in the humanities to join us for the breakfast conversation on book manuscripts with Alan Thomas and Dean Lofton.