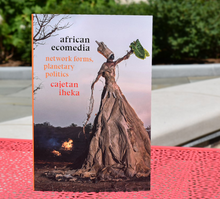 We're proud to share that Cajetan Iheka, the incoming director of the Whitney Humanities Center, has been awarded the 2023 Harold and Margaret Sprout Award for African Ecomedia: Network Forms, Planetary Politics (Duke University Press). The award is given annually by the International Studies Association (ISA) to recognize the best book addressing environmental issues from an international or transnational perspective.
African Ecomedia has previously won the 2022 African Studies Association Best Book Prize, the Ecocriticism Book Award of the Association for the Study of Literature and Environment, and the Ronnie Heyman Prize for Outstanding Scholarly Publication in the Humanities.
Please join us in congratulating Professor Iheka!