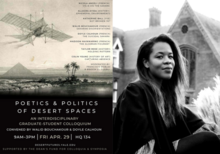 Yale graduate student Allegra Ayida (History) was selected to speak at Desert Futures: Sahara next week. Allegra is a WHC Graduate Fellow in the Environmental Humanities and a first-year PhD student researching the history of environmental resources—such as water, oil, and air—in West Africa.
Supported by the Humanities/Humanity Program at the Whitney Humanities Center, "Desert Futures: Sahara" is an interdisciplinary conference that will bring together distinguished artists and scholars to discuss the poetics and politics of Saharan spaces. The conference—taking place in person at Yale University from April 28 to May 1—includes an opening symposium (free and open to the public), film screenings and art exhibitions, a scholarly workshop, and a graduate student colloquium.
Allegra is a panelist at the graduate student colloquium Poetics & Politics of Desert Spaces, which is free and open to Yale ID-holders. She is scheduled to present on April 29 at 10:45 a.m. in HQ room 134 (320 York Street), where she will discuss how urbanization and topographical transformations have made Bar Beach, Lagos a microcosm of the political, cultural, and environmental history of Nigeria.