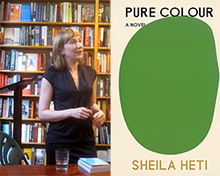 The Whitney Humanities Center will host Canadian author Sheila Heti as a Franke Visiting Fellow during the fall 2022 semester.
Sheila Heti's literary oeuvre comprises novels, children's books, stories, collaborative anthologies, essays, and a stage play. She is the author of ten books, including the critically acclaimed novels How Should a Person Be? (2010), Motherhood (2018), and Pure Colour, which was published this February. The New York Times Book Review named Pure Colour an Editors' Choice earlier this month.
As a Franke Visiting Fellow, Heti will participate in weekly Fellows Forum talks and lunches with other Whitney Fellows. She will also deliver a public presentation to share her work with the Whitney's wide intellectual community.
We look forward to welcoming Sheila Heti as our newest Franke Visiting Fellow in the fall. The Franke Visiting Fellows Program is made possible by the generosity of Richard and Barbara Franke.