The Whitney Humanities Center is proud to announce the inaugural class of Whitney Humanities Center Graduate Fellows in the Environmental Humanities. The distinction — given this year to nine graduate students with a wide array of scholarly interests and backgrounds — comes with an honorarium as well as mentorship opportunities and additional programming.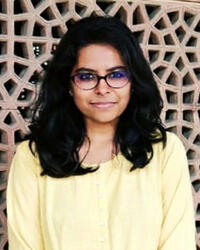 Meenakshi A is a first-year PhD student at the Department of History. Her research considers the intersecting histories of materials, technologies, infrastructures, and the environment in modern South Asia. Her research engages with these themes through the histories of cement and concrete in the region. She graduated with a BA (Hons) in History from Ambedkar University Delhi, before doing an MA and an MPhil in Modern History at the Centre for Historical Studies at Jawaharlal Nehru University.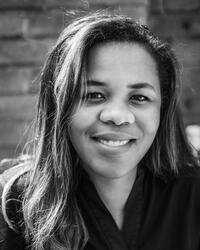 Allegra Ayida is pursuing her PhD in History at Yale. She holds a BA in History from Wesleyan University, an MA in World History from Kings' College London and an MPhil in African Studies from Cambridge University. She is a historian of Africa who specializes in the longue durée history of Nigeria, in particular the Warri kingdom located in the Niger-Delta region of Nigeria. Her current research in environmental humanities focuses on oil and land ownership in the Niger-Delta region. The Warri kingdom, and the Niger-Delta as a whole, is a highly contested space, with longstanding tensions over land and resources. She hopes to use both historical and environmental perspectives to address contemporary concerns of the people in the region. Her website is allegraayida.com and she can be found on Twitter @AllegraHistory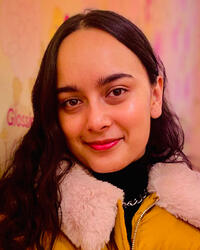 Shubhashree Basnyat is a first-year PhD student in the English Department. Born in Kathmandu, Nepal, Shubi received her BA from Williams College, where she majored in English and earned Highest Honors for her thesis, "Kathmandu," a celebration of the expansive and creative relationships indigenous communities have with urban space in Nepal. Shubi has an MA in Postcolonial Studies from SOAS, University of London, where she also served as a reviewer for the graduate student journal Decolonial Subversions. Her MA dissertation examines women's narratives of illness in Nepali fiction. At Yale, Shubi hopes to work at the emergent intersection of disability, illness, and environmental studies, while remaining rooted in postcolonial studies and feminist and queer theory. In her free time, Shubi is learning to rest, meditate, and cook.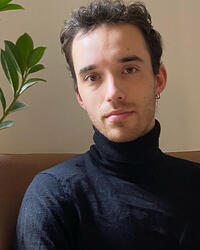 Dante LaRiccia is a PhD student in History with a particular focus on global and transnational histories of the environment. His current research centers on a diverse array of American development organizations and their variegated epidemiological and ecological incursions into the broader Western hemisphere. Prior to joining the Yale Department of History, Dante earned an MA in Global History from the Free and Humboldt universities in Berlin, where he studied on a German Academic Exchange Service (DAAD) scholarship. His MA thesis examined the convergence of two crises—in energy and international development—during the 1970s. As an undergraduate, Dante completed majors in History and Politics at New York University, where his thesis earned highest honors and he graduated cum laude.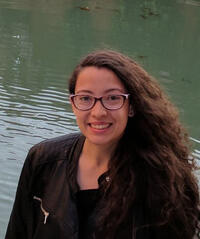 Camila Marcone is a first-year doctoral student in the Program in Medieval Studies. Her research is focused on environmental history in late-medieval and early modern Iberia as well as the translation of medieval environmental practices to early colonial Latin America. She is currently exploring these topics through a comparative analysis of medieval and early modern hunting manuals. Camila's work has been featured at conferences organized by the Renaissance Society of America, Princeton University, and the Schoenberg Institute of Manuscript Studies. She is the daughter of Peruvian immigrants and hails from New Jersey.
Julien Néel received a double BA in English and French literatures and his MA in comparative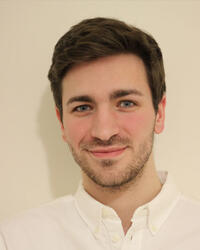 literature from Sorbonne Université, as well as an MA in arts, languages, and literatures from L'École des Hautes Études en Sciences Sociales (EHESS). His first two master's theses dealt with the relationship between the female body, gazes, and images in the 1950s and1960s, in works by Marguerite Duras, Sylvia Plath, Annie Ernaux, and Simone de Beauvoir. His last master's thesis analyzed body images in Charlotte Delbo's trilogy Auschwitz and After.
At Yale, Julien hopes to continue working on the vulnerable body, especially in the wake of environmental and industrial disasters, visual studies, feminism, and gender studies in twentieth- and twenty-first-century French literature. As a fellow at the Whitney Humanities Center in Environmental Humanities, he intends to include the study of other forms of life, ethics of care, and ecocriticism in his research.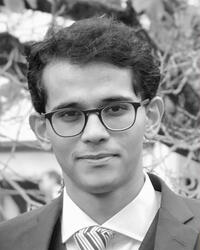 Harshavardan Raghunandhan is a student of South Asian and environmental history with interests in late Cold War regimes of development and the nature of ecological dissent against them. Harsha is especially excited about new approaches to energy, materials, and natural resource histories; he hopes to integrate approaches to such subjects into his own work. He is also interested in the ways in which we can reconfigure conceptions of moral economy in light of ecological crises.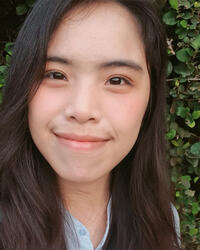 Nellie Yang (楊婷) received her BA in Chinese Literature from National Taiwan University and worked for a year in the cultural promotion industry prior to starting her PhD studies at Yale. Her research interest lies in fictions of the late imperial period, particularly their intersection with natural history and their imagination of the exotic. Having studied Manchurian, Tibetan, and Mongolian in college, she is also interested in investigating the literary embodiment of the relationship between Zhongyuan and the peripheries.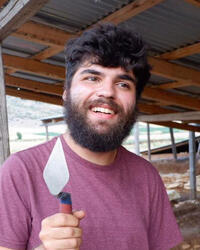 Parker Zane is a PhD student in Assyriology. He received a BA with Honors in Egyptology and Assyriology (Assyriology track) and Archaeology and the Ancient World (Egyptian and Near Eastern Archaeology track) from Brown University. His bachelor's thesis focused on the role of clouds in the astral sciences of Mesopotamia. His primary interests include the intellectual history of ancient Iraq, human-environment relationships, and the archaeology of Southwest Asia. He is also interested in writing systems and duck decoys.