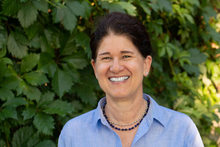 We are delighted to announce that Diane Berrett Brown has joined us this August as the new Associate Director of the Whitney Humanities Center. Diane came to us after nearly a decade as Managing Editor at Diacritics, the cutting-edge journal of literary theory published out of Cornell University. She is a Harvard Ph.D. specializing in eighteenth-century French literature and has many years of experience teaching, editing, and mentoring in academic settings.
At Diacritics, she oversaw a complete redesign of the journal; she established Diacritics's presence on social media; and she helped found a book series at Cornell University Press—Corpus Juris: The Humanities in Politics and Law.
Diane might suggest, though, that her greatest achievement has been making the submission and peer review process as transparent and collegial as possible. She has developed a series of academic writing and publishing workshops aimed at helping young scholars shepherd their work through the many challenges of anonymous peer review. She is passionate about helping scholars produce their best work—and celebrating it when it makes its way to publication—and looks forward to collaborating with students and faculty through the Whitney Humanities Center.
Diane is versatile, creative, collaborative, and precise! One of her recommenders, the op manager at Cornell, couldn't emphasize enough how beloved she is by the staff she works with, and he pointed out that she is equally appreciated by faculty (even the most difficult!) and by staff.
With Mark Bauer's retirement, and with Alice Kaplan replacing Gary Tomlinson as director, the Whitney enters a new phase. We are grateful to Diane Berrett Brown for joining Norma Thompson as co-Associate Directors.
Since her arrival in New Haven, Diane has been enjoying Connecticut's hiking trails and beaches with her dog Otis.