The Season of Our Confinement
Proust has been helpful for these moments of loss and time regained. When Swann kisses Odette for the first time, he's aware, painfully aware, that he's looking for the last time at the face he hasn't yet kissed—a landscape he's about to leave forever. I've been thinking about that sensation during these first months of life in HQ. I walk through the wide halls of the Whitney on the first floor, admiring a coffered ceiling, a window medallion, a gaggle of tulips in the courtyard, feeling nostalgia for an emptiness that won't last much longer.
Except it wasn't empty at all. The year of our confinement, 2020–2021, brought us fantastic webinars, a beautiful Finzi-Contini lecture, the on-screen meeting of a visionary executive committee, a series of mind-expanding fellows' forums, the launching of the new Whitney Humanities Center Graduate Fellows in the Environmental Humanities, plus the graduate student features on our website, "From the Quadrangle," all made possible through our meaningful partnerships with the Graduate School, the Translation Initiative, RITM, YPSA, the Humanities Program, and our many Franke programs.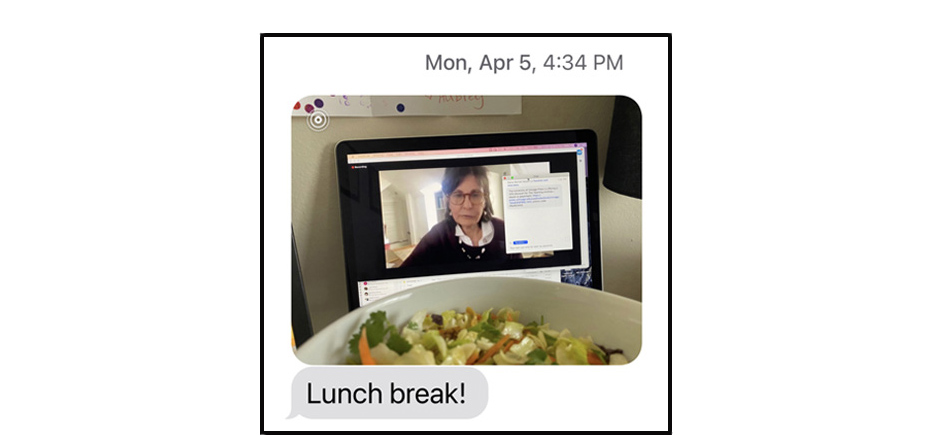 I'll always remember one image, which sums up all the rest:
The occasion for this text message was a webinar called The Teaching Archive. Its purpose: to celebrate a new book about the teaching notes of famous critics—the message being that classroom practices are integral to critical thought. The person who sent the image had no time, really, to take off from her work, but she zoomed on and was instantly pulled into the discussion. Rachel Sagner Buurma and Laura Heffernan were presenting, Caleb Smith from Yale's English Department was responding, with archival documents to illustrate their arguments. Zoom lets you eat your salad in peace as you listen to a talk, so that's what she did, and in her intellectual delight, she wanted to share her situation—hence the salad photo sent to our Associate Director, Diane Berrett Brown. Diane has inspired me this year with her imagination and her intellectual values—and the photograph will always remind me of all she's accomplished already.
We're leaving one landscape and entering another, to be sure, in which real halls are crowded with students and faculty and staff, as if it had never been any other way. As soon as we can, we'll be eating lunch in the Fellows' Hall, sheltered under its vaulted ceilings and arched windows. All that's missing is a coffee cart!
This coming fall semester, during the first HQ semester at the Whitney, Paul North will step in as Acting Director while I take my triennial leave. Paul, Professor of Germanic Languages and Literatures, works at the intersection of literature, continental philosophy, and critical theory. He has been a fellow and member of the executive committee, and in fall 2020, in the darkest hours of the pandemic, he taught a brilliant Franke seminar on Zoom, bringing together 13 leading scholars to renew our understanding of Marx's Capital.
Paul North is a model for the kind of bold, imaginative intellectual life at the heart of the Whitney mission—and for our collaborative mission. His course on Poe and Kafka with Caleb Smith, his interdisciplinary workshop on critical theory, his thinking about the contemporary university make him one of Yale's leaders in the humanities. This March, Paul published Bizarre-Privileged Items in the Universe: The Logic of Likeness. A radical response to the centuries-old obsession with theories of difference, Bizarre-Privileged Items in the Universe follows likenesses as they traverse physics and the physical universe; evolution and evolutionary theory; psychology and the psyche; sociality, language, and art.
Paul will be reporting from the field as the Whitney goes "live."
With best summer wishes,
Alice
Alice Kaplan
Sterling Professor of French
Director, Whitney Humanities Center
June 9, 2021