On view:
September 12, 2016

to

December 9, 2016
What does it mean to change the visual narrative of a country?  This question has been a central focus of my work with Digital Diaspora Family Reunion (DDFR), a live and virtual meeting space designed to encourage people to engage with their own family photographic archives in galvanizing ways. For over twenty-five years my work in film, video, photography, and performance has mined my family and extended family archives to explore identity, and to create dialogues and connections across cultures and between generations. DDFR is a natural outgrowth of my process and has been performed at festivals, museums, colleges, libraries, public housing projects, and other venues across the United States, in Canada, Brazil, and Ethiopia as well as being streamed online. However, this is the first exhibition of DDFR that features formally printed large-scale images together with the stories of the subjects who shared them. The exhibition coincides with an interdisciplinary course that I am teaching this fall in the Yale School of Art entitled "Strategies of Visual Memoir in Art Practice," a studio-based class that explores the use of archives in constructing real and fictive narratives across a variety of disciplines. 
Over the semester, students in the course will have the opportunity to curate portions of this exhibit while working together with the Yale and New Haven communities. My hope is that this interactive exhibition will serve as a type of crossroads – a  meeting space, between cultures and communities, the present and the past – and provide a meditation on how the family album shapes our humanity and the way we see others. Can the family album turn strangers into family? Can it help us to see, in the words of Natalie Goldberg, that "our lives are at once ordinary and mythical?" Visitors will be able to submit their own photographs via email [1world1family.me@gmail.com] or through one of the scheduled DDFR Roadshow photo-share events.
We also welcome visitors to the exhibit to attend the course's Sunday film screenings, "Identity & Representation: In the Obama Era," a series of experimental and art-focused documentaries that draw on the archive and personal memoir as sources of inspiration.
 TAH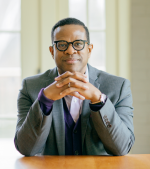 Thomas Allen Harris is a filmmaker and transmedia artist whose works illuminate the human condition and the search for identity, family, and spirituality. His 1995 documentary VINTAGE- Families of Value explores African American families through the eyes of LGBT siblings. É Minha Cara/That's My Face (2001) addresses the artist's identity moving between New York City, East Africa, and Brazil. In The Twelve Disciples of Nelson Mandela (2005), Harris examines the life of his late South African stepfather, a pioneer in the anti-apartheid movement. His most recent film project, Through a Lens Darkly: Black Photographers and the Emergence of a People (2014), looks at the ways photographic representations serve as tools of representation and self-representation through history.  
Films, shorts, and video installations by Thomas Allen Harris have been exhibited at the Whitney Museum of American Arts 1995 Biennial, Corcoran Gallery, Melbourne Arts Festival, MoMA, and Gwangju Biennale; broadcast on PBS, ARTE, YLE, CBC, and the Sundance Channel; and screened at the Sundance, Toronto, Berlin, Outfest, and FESPACO film festivals. Since 2009, Harris has been touring nationally and internationally with his Digital Diaspora Family Reunion Roadshow, most recently as a Montgomery Fellow at Dartmouth College and at the Yale University Afro American Cultural Center.
Harris's work has received numerous awards including a 2016 Emmy Award Nomination, an NAACP Image Award, a United States Artists Award, an Africa Movie Academy Award, a Fund for Santa Barbara Social Justice Award, as well as Guggenheim, Rockefeller, and Sundance Directors Fellowships. His work has been supported by the Ford Foundation, National Endowment for the Arts, Andy Warhol Foundation for the Visual Arts, Sundance Institute, Tribeca Film Institute, The Fledgling Fund, Rockefeller Foundation, Corporation for Public Broadcasting, Nathan Cummings Foundation, New York State Council on the Arts, Creative Time Inc., and the Banff Centre.
A published photographer, curator, and writer, Harris lectures widely on the use of media as a tool for social change. His media appearances include C-Span, the Tavis Smiley Show, NPR, Metrofocus, and AriseTV. Reviews of Harris's work have appeared in The New York Times, Time Magazine, Washington Post, Variety,   The Los Angeles Times, The Advocate, Jay Z's Life and Times,  among others.
---