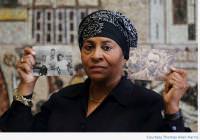 "What does it mean to change the visual narrative of a country?" This is the central question Thomas Allen Harris explores in his exhibition, "Digital Diaspora Family Reunion: Turning Strangers into Family," which has appeared throughout the United States, as well as in Canada, Brazil and Ethiopia, and is notable for changing content based on location. The current display, which features work compiled by students in Harris' class at the Yale School of Art, "Strategies of Visual Memoir and Art Practice," offers a curation of photos and written family histories that reflect ways of contemplating identity and forming connections across cultural and generational barriers.
When I arrived at the Whitney Humanities Center last Wednesday, I entered exhausted, rain-soaked and overwhelmed by the impending doom of finals. Unfortunately, upon my arrival, I was informed that the exhibit was in transition and thus, no photographs were currently on display. Disappointed, I contemplated leaving, figuring I had missed the exhibition's main point.
However, before I could leave, I noticed that, instead of photos, the student reflections were displayed on the walls of the gallery, typed in simple grey font on large sheets of white paper. Intrigued, I decided to stay. As I walked through the gallery, I read many different stories of grandparents and parents detailing the experiences and sacrifices of past generations. A common theme across most of the artist statements was that of immigration and cultural identity. The words "Angel Island" and "Ellis Island" were ubiquitous. And where voluntary immigration was absent, the legacy of slavery from Lagos, Nigeria to the American South was clear.
While the exhibition has been on display since September, in light of recent political events, this element of the exhibit takes on a deeper meaning. On the Sunday following the election, I had a long conversation with one of my suitemates, an international student, about the complexities and crimes of American history. Speaking about my fears of history repeating itself, I described the eerie parallels of the current political rhetoric to that of the federal government in the years leading up to the Great Depression. She was shocked to discover that the United States, land of "Give me your tired, your poor, your huddled masses," had enacted some of the most discriminatory anti-immigration legislation of the 21st century. I, too, am disappointed in these facts.
As I reached the end of the exhibit, I was particularly struck by one student reflection. The student, a first generation American on his paternal side, describes a photograph of his grandfather, a Mexican immigrant who had to come to the United States to work on the railroad. In his description, the student writes, "I love that it says 'U.S.A.' on his shirt and, you know, it seems like he's getting acclimated … but it's one of those things where it's like it encapsulates how it was for the first generation." Though I can't see the photograph, I can imagine it. The dedication required to embark on an often tenuous journey with the hope of providing a better life for the next generation. So proud to be an American, boasting the emblem of a country that no longer accepts him in 2016.
While I am sure the inclusion of photographs in this exhibit adds a whole new level of viewer experience, I am almost glad I saw it during a period of transition. When I read these stories, I imagined my own immigrant family and the sacrifices that have been made for me. And for an exhibit subtitled, "Turning Strangers into Family," I feel I have understood Harris' true purpose.
Despite these weighty themes, the exhibit, thankfully, shies away from heavy-handedness. There are no sweeping "we are the world" sentiments, only honest reflections on people and memories, the ideas of home and loss. The students' descriptions give a short yet profound passing glance at the lives that formed the backbone of American history, lives often now seen by many as foreign and "other."
Upon returning to Yale after Thanksgiving, I felt a loss of purpose, not just in my schoolwork, but in my energy to fight back against the current stream of hateful and discriminatory rhetoric streaming from Washington. Recently, I've find myself too tired to protest, and I worry that others, like me, are losing steam. I am still angry, concerned and fearful, often a combination of all three, but am unsure of my next course of action.
Two weeks ago, the cast of the Broadway musical "Hamilton," known for its diverse portrait of American history, spoke directly to Vice President-elect Mike Pence at the end of an evening performance. Actor Brandon Victor Dixon introduced him and his castmates as "diverse America" alarmed by the implications of a Trump administration and voiced their hope that the administration would work to protect the rights of all American citizens. The actors then concluded their short statement with the words, "Again, we truly thank you for sharing this show. This wonderful American story told by a diverse group of men, women of different colors, creeds and orientations."
And in this moment, as in the gallery, it was clear: The American story is right when it is told by all of us. And with the Hamilton cast, peacefully standing in a line onstage, their variant backgrounds on full display, Pence, and I, could not look away.
I wouldn't necessarily consider myself an optimistic person, yet when I walked around the gallery, reading these stories and envisioning the photographs, I felt a quiet sense of hope on that rainy Wednesday afternoon.
Perhaps, we are not changing the visual narrative of America at all. We are simply, and justly, shedding light on the powerful diaspora of experience that has been there all along.
"Digital Diaspora Family Reunion: Turning Strangers into Family" will run in the Gallery at the Whitney until Dec. 9, 2016.
---
Yale Daily News
Ryan Howzell - Dec 02, 2016