Past Finzi-Contini Lectures
Hernan Diaz, The Heart of Fiction, 2021
Hernan Diaz, author of In the Distance, which was a finalist for the 2018 Pulitzer Prize, and associate director of the Hispanic Institute at Columbia University.
Why dwell on made-up stories? Why make them up in the first place? Can fiction, that pack of lies, aspire to some form of truth?
Sponsored by The Yale Review and Whitney Humanities Center
Poster
Namwali Serpell, Race Off: The Fantasy of Race Transformation, 2021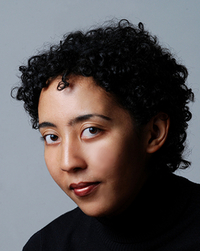 Namwali Serpell is the author of The Old Drift, which won the Windham-Campbell Prize in Fiction, the Anisfield-Wolf Book Award in Fiction, the L.A. Times's Art Seidenbaum Award for First Fiction, and the Arthur C. Clarke Award for Science Fiction, and was named one of the 100 Notable Books of 2019 by the New York Times. Serpell's essay collection, Stranger Faces (2020), was a finalist for a National Book Critics Circle Award. Born in Lusaka, Zambia, Serpell received her BA at Yale and her PhD at Harvard. She is currently Professor of English at Harvard.
"Race Off" tracks the persistent fantasy of race transformation—specifically, of "switching" from black to white or vice versa—in American fiction, journalism, and film from the nineteenth century to the present. Serpell will discuss the aesthetic, affective, and political implications of this fantasy; its resonance with and distinction from "passing" narratives; and how it tends toward different underlying ideas and tones depending on whether the author is black or white.
Serpell's talk will be followed by a discussion and Q&A with Tina Post. Tina Post is an Assistant Professor of English and Theater and Performance at the University of Chicago, where she is also affiliated with the Center for the Study of Race, Politics, and Culture. Her first book project, Deadpan: The Aesthetics of Black Inexpression, is under contract with NYU Press.
The event is cosponsored by The Yale Review.
Registration link
Poster
5:00–6:30 pm ET, Zoom
Philippe Lançon, journalist and writer, Did I Write a Feel-Good Book?, 2020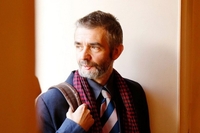 Philippe Lançon's Disturbance: Surviving Charlie Hebdo is available at the Yale Bookstore.
Masha Gessen, Russian and U.S. journalist and author, Imagining a Book about Imagining Democracy, 2018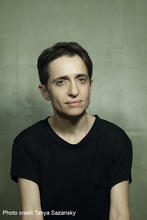 Wednesday, December 5
Lecture
5:00 pm
Thursday, December 6
A conversation with Yale professors Marta Figlerowicz and Jason Stanley
10:00 am
David Shulman, Hebrew University of Jerusalem, Caught in the Cogs of Time, 2018
Wednesday, November 7
"The City of Copper" from the Thousand and
One Nights 
Thursday, November 8
From Arabic to Tamil to "Mimosas" of Oliver Laxe
Amitav Ghosh, acclaimed Indian writer, Speaking of Babel: The Risks and Rewards of Writing about Polyglot Societies, 2017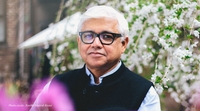 The Whitney Humanities Center is pleased to announce that acclaimed Indian writer Amitav Ghosh will deliver the Finzi-Contini lecture on Tuesday, April 18, 2017. His talk, "Speaking of Babel: The Risks and Rewards of Writing about Polyglot Societies," will take place at 5 pm in the WHC Auditorium at 53 Wall Street. Ghosh will also read from his works on Wednesday, April 19, at 10:15 am in the Auditorium. Both events are free and open to the public. 
Amitav Ghosh was born in Calcutta, grew up in India, Bangladesh, and Sri Lanka, and studied in Delhi, Oxford, and Alexandria. He is the author of numerous award-winning works of fiction and nonfiction, including the novels The Glass Palace, The Hungry Tide, Sea of Poppies, River of Smoke, and Flood of Fire, and the essay collections In an Antique Land, Dancing in Cambodia, The Imam and the Indian, and, most recently, The Great Derangement: Climate Change and the Unthinkable. Ghosh's work has appeared in the New Yorker, the New Republic, and the New York Times and been translated into more than thirty-five languages. He has taught at Delhi University, Columbia, Queens College, and Harvard. Ghosh is the recipient of the Padma Shri, one of India's highest honors, bestowed by the President of India; honorary doctorates from Queens College and the Sorbonne; the Dan David Prize, in recognition of outstanding scientific, technological, cultural, or social impact on our world; and the Blue Metropolis International Literary Grand Prix for lifetime achievement. He was elected a Fellow of the Royal Society of Literature and has been a Ford Foundation Art of Change Fellow.
Dinaw Mengestu, The Politics of Aesthetics: The Danger of Writing from the 'Margins' , 2016
The Whitney Humanities Center is pleased to announce that acclaimed journalist, essayist, and novelist Dinaw Mengestu will deliver the Finzi-Contini lecture on Tuesday, March 1, 2016. His talk, "The Politics of Aesthetics: The Danger of Writing from the 'Margins,'" will take place at 5 pm in the WHC Auditorium at 53 Wall Street. Mengestu will join in conversation with Yale professors Hazel Carby and Alice Kaplan on Wednesday, March 2, at 10:30 am in the Auditorium. Both events are free and open to the public. 
Dinaw Mengestu came to the United States with his family from Ethiopia at the age of two. Since earning his MFA at Columbia University in 2005, he has published three novels, all of them New York Times Notable Books, including his most recent, All Our Names. A 2012 MacArthur Foundation Fellow, Mengestu also earned a 2007 National Book Foundation "5 Under 35" Award and was included on the New Yorker's "20 Under 40" list in 2010. He is the recipient of a Lannan Fiction Fellowship, the Guardian First Book Award, and the Los Angeles Times Book Prize, among numerous other awards. His work has been translated into more than 15 languages. 
Also a freelance journalist who has reported from sub-Saharan Africa about life in Darfur, northern Uganda, and eastern Congo, Mengestu has had his work published in Harper's, Granta, Rolling Stone, the New Yorker, and the New York Times.
Maxine Hong Kingston, From Woman Warrior to Book of Peace, 2015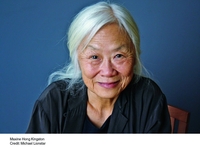 Tuesday, April 28, "From Woman Warrior to Book of Peace", at 5pm
Wednesday, April 29, A conversation between Maxine Hong Kingston and Professor Jing Tsu, Chair, Council on East Asian Studies, at 11am
Kingston is the daughter of Chinese immigrants who operated a gambling house in the 1940s, when Maxine was born, and then a laundry where Kingston and her brothers and sisters toiled long hours.  Kingston graduated with a bachelor's degree in 1962 from the University of California, Berkeley, and, in the same year, married actor Earll Kingston, whom she had met in an English course. The couple has one son, Joseph, born in 1963. They were active in antiwar protests in Berkeley, but in 1967 the Kingstons headed for Japan to escape the increasing violence and drugs of the antiwar movement. They settled instead in Hawai'i, where Kingston took various teaching posts. They returned to California seventeen years later, and Kingston resumed teaching writing at Berkeley.
While in Hawai'i, Kingston wrote her first two books. The Woman Warrior (1976) won the National Book Critics Circle Award, making her a literary celebrity at age thirty-six; China Men (1980) earned the National Book Award. Both works remain widely taught today. Kingston has also received the PEN West Award for Fiction (for Tripmaster Monkey, 1989); the American Academy of Arts and Letters Award in Literature; the National Humanities Medal, conferred by President Clinton; as well as the title "Living Treasure of Hawai'i," bestowed by a Honolulu Buddhist church. Her most recent books are The Fifth Book of Peace (2003) and I Love a Broad Margin to My Life (2011).  Kingston is currently Senior Lecturer Emerita at the University of California, Berkeley. In 2014, she was awarded the National Medal of Arts by President Obama.
Susan Stewart, The Ruins Lesson, 2013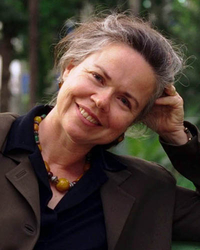 Ms. Stewart is the Avalon Foundation University Professor in the Humanities at Princeton University, where she also directs the Society of Fellows in the Liberal Arts. Her poetry collections include Red Rover; Columbarium, which won the National Book Critics Circle Award; The Forest; The Hive; and Yellow Stars and Ice. She has written extensively about the creative act of making poetry and the history of literary criticism. Among her prose works are The Poet's Freedom: A Notebook on Making; The Open Studio: Essays in Art and Aesthetics; Poetry and the Fate of the Senses, which won both the Christian Gauss Award in Literary Criticism and the Truman Capote Award for Criticism; Crimes of Writing: Problems in the Containment of Representation; On Longing: Narratives of the Miniature, the Gigantic, the Souvenir, the Collection; and Nonsense.
Ms. Stewart has translated Alda Merini, Scipione, Laudomia Bonanni, and Milo De Angelis from the Italian; Euripides' Andromache from the Greek; and selected poems by Marcel Proust from the French. She often collaborates with composers and artists. "Songs for Adam," a cycle on her poems composed by James Primosch, premiered with the Chicago Symphony Orchestra in 2009. Stewart has also written a series of songs with the jazz clarinetist and composer Ben Goldberg, and her poems have been on exhibition with paintings by Sandro Chia in Capalbio, Italy.
Ms. Stewart has received fellowships from the Guggenheim Foundation, the Pew Foundation in the Arts, the National Endowment for the Arts, and the Lila Wallace Foundation. She is a MacArthur Fellow, a former Chancellor of the Academy of American Poets, and a fellow of the American Academy of Arts and Sciences. In 2009 she received an Academy Award in Literature from the American Academy of Arts and Letters, and in 2014 she will be a Berlin Prize Fellow at the American Academy in Berlin.
Jonathan Galassi, A Translator's Confession, 2011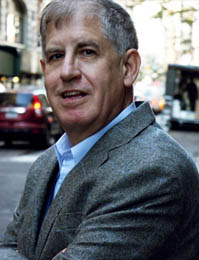 The president and publisher of Farrar, Straus and Giroux, one of New York's most revered publishing houses, Mr. Galassi is a standout in his field, a savvy yet old-fashioned hands-on editor who has played an instrumental role in the success of such notable authors as Alice McDermott, Jonathan Franzen, and Jeffrey Eugenides, among others. His first experience as an editor was as a student at Phillips Exeter Academy. There, he discovered the joys of working with others on their writing, the "thrill," in his own words, "of being present at the creation of somebody's work." After attending Harvard College, where he studied with Elizabeth Bishop and Robert Lowell, and earning an MA from Cambridge University, Mr. Galassi joined Houghton Mifflin as an editor in the trade division. He eventually moved to Random House, as a senior editor, until being appointed vice-president and executive editor at Farrar, Straus and Giroux. He was named editor-in-chief in 1988, executive vice-president in 1993, publisher in 1999, and president in 2002. In 2008 he received the Maxwell E. Perkins Award, which recognizes an editor, publisher, or agent who "has discovered, nurtured and championed writers of fiction in the U.S."
Although he identifies himself as a publisher and editor, committed to enhancing the dissemination of quality literature first and foremost, Mr. Galassi's passion for poetry and language have earned him accolades as a poet and translator. He has published two collections of his own poems, Morning Run (Paris Review Editions, 1988) and North Street (HarperCollins, 2000); a third, Left-handed, is forthcoming in 2012 (from Alfred A. Knopf). He is the translator of several works by Italian poet Eugenio Montale, including The Second Life of Art: Selected Essays (Ecco Press, 1982); Otherwise: Last and First Poems (Random House, 1984); Collected Poems: 1920-1954 (FSG, 1998); and Posthumous Diary (Turtle Point Press, 2001). His translation of Giacomo Leopardi's Canti was published by FSG in 2010.
Mr. Galassi is honorary chairman of the Academy of American Poets, which he served as president from 1994 to 1999 and chairman from 1999 to 2002. He also served as poetry editor of the Paris Review for ten years. Currently, he is a member of the board of overseers of the California Institute of the Arts and a trustee of Phillips Exeter Academy.
Alberto Manguel, Borges and the Impossibility of Writing, 2010
Alberto Manguel is an internationally acclaimed essayist, novelist, anthologist, translator, and editing. The bestselling author of numerous award-winning titles, he acknowledges books and reading as his essential subjects as they define our experience and shape human thought. "I believe that we are, at the core, reading animals," he writes in A Reader on Reading. "We come into the world intent on finding narrative in everything." An indefatigable reader, Mr. Manguel is legendary for the voluminous library contained within his mind. And yet the physical pleasure and rewards of handling and perusing—re-reading—printed, ink-on-paper books remain irreplaceable for him, especially in a digital age when "brief and quick and easy" are valued over "slowness,…depth,… [and] difficulty."
Mr. Manguel's love affair with literature began when he was invited by the blind Argentine writer Jorge Luis Borges to read aloud to him at his home, which the young Manguel continued to do from 1964 to 1968. He eventually traveled to Europe and Tahiti, where he pursued a living with words: writing, translating, editing, and reviewing. In the 1980s, Mr. Manguel relocated to Toronto, where he contributed to national newspapers as well as to the New York Times, the Village Voice, the Times Literary Supplement, and the Canadian Broadcasting Corporation; directed the Maclean Hunter Arts Journalism Program at the Banff Centre for the Arts; and held an appointment as Distinguished Visiting Writer in the Markin-Flanagan Program at the University of Calgary. In 2000 he moved to France and makes his home in a medieval presbytery near the Loire, which he restored to house his ever-expanding personal library and writes about in The Library at Night. He has an honorary doctorate from the University of Liège and is an Officer of the French Order of Arts and Letters. 
Mr. Manguel's many noteworthy publications include With Borges, a portrait of the brilliant reader-writer; A Dictionary of Imaginary Places, a compendium of fictional realms, coauthored by Gianni Guadalupi; A History of Reading, which traces the 6000-year-old record of the written word; Reading Pictures, a guide to interpreting art; A Reading Diary, the author's musings on twelve favorite books; The City of Words, a collection of lectures on the universality of storytelling; The Library at Night, a personal meditation on the critical role libraries play in civilization, published by Yale University Press; and A Reader on Reading, published to coincide with the Finzi-Contini lecture, also from Yale University Press.  Mr. Manguel has written five novels, two of which are available in English: News from a Foreign Country Came and Stevenson under the Palm Trees.
Azar Nafisi, The Republic of the Imagination, 2008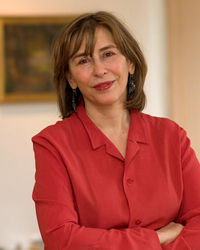 Azar Nafisi is the author of Reading Lolita in Tehran: A Memoir in Books, which portrays the Islamic revolution in Iran and its harrowing effects on this university professor and her students.  An incisive exploration of the transformative powers of fiction in a world of tyranny, the book spent more than 117 weeks on the New York Times bestseller list, has been translated in 32 languages, and has won diverse literary awards, including the 2004 Non-fiction Book of the Year Award from Booksense, the Frederic W. Ness Book Award, the 2004 Latifeh Yarsheter Book Award, an achievement award from the American Immigration Law Foundation, and the 2006 Persian Golden Lioness Award for literature.
Ms. Nafisi directs the Dialogue Project at the Foreign Policy Institute of Johns Hopkins University's School of Advanced International Studies in Washington, D.C. A professor of aesthetics, culture, and literature at Johns Hopkins, she has held a fellowship at Oxford University and taught at the University of Tehran, the Free Islamic University, and Allameh Tabatabai. She has also earned international respect for advocating on behalf of Iran's intellectual youth, especially young women.
Ms. Nafisi's other writings include Anti-Terra: A Critical Study of Vladimir Nabokov's Novels as well as a children's book, BiBi and the Green Voice. She has contributed new introductions to the Modern Library Classics edition of Tolstoy's Hadji Murad and to Iraj Pezeshkzad's My Uncle Napoleon and has written for the New York Times, the Washington Post, and the Wall Street Journal.
W. S. Merwin, On Romance, 2006
W. S. Merwin is a renowned poet, translator, and memoirist. His first published volume of poetry, A Mask for Janus, won the Yale Younger Poets award in 1952.  Since then, Mr. Merwin has gone on to receive numerous other prestigious prizes, including the Bollingen and the Pulitzer.  In 2005, his Migration:  Selected Poems 1951-2001 won the National Book Award. 
A self-proclaimed lover of languages and the medieval European literary tradition, Mr. Merwin has translated the thirteenth-century Provencal troubadours, Dante's Purgatorio, El Cid, and Sir Gawain and the Green Knight, among other works.  His most recent volume, Summer Doorways, is an autobiographical account of a youth spent discovering new places, new voices.
Orhan Pamuk, Melancholy-Tristesse-Huzun: Landscapes of Instanbul, 2003
Simon Schama, British History: In Defense of the Epic, 2001
A. S. Byatt, Old Tales and New Forms: Storytelling in Modern European Fiction, 1999
Charles Rosen, The Benefits of Anachronism, 1996
Tzvetan Todorov, The Gaze and the Fray: Reflections on Rousseau and Hegel, 1995
René Girard, Is There Anti-Semitism in the Gospels?, 1993