Co-editor of Ferrante Unframed (2021) Costanza Barchiesi is a Ph.D. candidate in the Department of Italian Studies. Her research explores classical reverberations in twentieth- and twenty-first-century Italian novels, women's writing, and feminism. She is also pursuing a certificate in Women's, Gender, and Sexuality Studies.
When Costanza Barchiesi organized a panel on Italian novelist Elena Ferrante at the annual conference for the Canadian Association for Italian Studies (CAIS), she had no idea it would culminate in a book publication. Conversations at the conference in Orvieto, Italy grew into a collaborative project. Costanza—who is now in her fourth year at Yale—co-edited a volume of essays titled Ferrante Unframed (2021) with Roberta Cauchi-Santoro, Associate Professor of Italian at St. Jerome's University in Waterloo. Published last fall by Società Editrice Fiorentina, Ferrante Unframed includes contributions by eight literary scholars who aim to reframe Ferrante's novels in a globalist perspective.
How did Costanza get from panel to publication? What was the process of publishing a co-edited book like for her as a graduate student? I spoke to Costanza about her experience editing and compiling the volume as well as her fascination with Ferrante and Italian women writers.
Q: Tell us about your first encounter with Ferrante's work. How has this relationship unfolded over the years?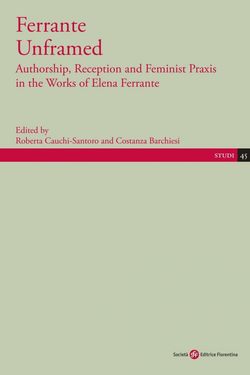 The first time I read Ferrante, I was a master's student at Georgetown University. I was immediately struck by Ferrante's vigorous prose and her foregrounding of women's struggles. Professor Laura Benedetti, who has written beautifully about female friendships in the Neapolitan Novels, ended up advising my thesis. During my first year at Yale, I worked on a scholarly article investigating the complexities of the Italian word geniale in Ferrrante's tetralogy L'amica geniale. This directly inspired me to propose the panel at CAIS.
Q: What is your take on Ferrante's global appeal? Why is there a need to "unframe" her work?
A recurrent process, or phenomenon, plagues the Italian literary canon—and I owe this astute observation to my friend and colleague, Megan Crognale (Visiting Professor of Italian at Wesleyan University): a first-time author often emerges as a literary sensation. Then, they have to fight the slight of being "too popular", of not possessing a literary language. The canon goes on to make space for them and the very rules that regulate the canon make way for linguistic, social, and cultural changes.
The need to "unframe" Ferrante comes directly out of this predicament. We want to shift the attention away from journalistic and literary exposés, and focus, instead, on questions of female authorship, autobiographic writing, and transnational reception. There is no "secret" to Ferrante's project: it illustrates how the local and the global, Neapolitan and Italian history and culture come together in women's and class struggles. Both her language and narrative are conducive to translation.
Q: How did the panel turn into a multi-author, international volume?
I have to thank Roberta for initiating this project. Immediately after our panel in Orvieto, she came up to me and proposed a book project. I was elated at the prospect of extending our discussions and reached out to all of the panelists (we were quite a large group, eleven people in total!). Each of us went on to revise and refine our individual work as part of a dynamic collective.
Q: Has working on this project—very much collaborative—impacted your own approach to academic life?
Editing always takes a lot of patience and has to be modulated, in my case, within the demanding life of a graduate student. This process was made much easier by the collegial spirit that our group fostered in Orvieto and by Professor Cauchi-Santoro, who has pushed us all to become better editors. One of my advisors in the Italian department here, Professor Millicent Marcus, has consistently highlighted collaboration as of critical value to the humanities. An inextricable part of being a humanist is learning to work together and nurturing not just our own but one another's ideas.
Q: You are currently pursuing the Women's Gender and Sexuality Studies Graduate Certificate. Can you tell us more about your interest in feminist and queer theory? What are you currently working on?
I have become very interested in the Italian and French second-wave feminism of the '60s and '70s, so I have been reading works by Hélène Cixous, Julia Kristeva, Luce Irigaray, and Adriana Cavarero, among others. My time at Yale has definitely consolidated in me a more intersectional understanding of feminism, thanks to key courses from Yale professors, for instance, courses on relational formations of race with Daniel HoSang (ER&M), Marxist and feminist thought with Eda Pepi (WGSS), and Renaissance writings by and on women with Jane Tylus (Italian).
In my dissertation, I focus on the myth of Siren Parthenope, the founding epic of the city of Naples. I explore her voice as a metaphor for women's authorship and her hybrid body as a place for negotiating tradition and innovation.
---

Xinyu Guan is a PhD student in French whose research focuses on early twentieth-century and postwar French literature, film, and cultural history. She also works for the Whitney Humanities Center as a Graduate Professional Experience Fellow.