Films at the Whitney Press
Yale Daily News, 19 September 2011
Humans are still evolving, profs say
By Robert Peck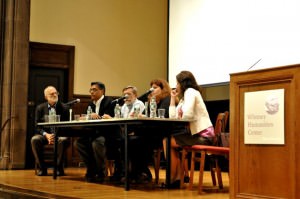 Yale alumni gathered to discuss evolution after a screening of the BBC documentary "Horizon: Are We Still Evolving?" with professor Stephen Stearns. Photo by Selen Uman.
Those who think that the human race has reached its pinnacle should think again: research shows that human beings are evolving faster than ever before.
Led by professor of ecology and evolutionary biology Stephen Stearns, about 75 students and members of the Yale community gathered Friday for a lecture panel and discussion on the ever-changing nature of human biology. The panelists revealed that despite modern medical advances, humans may still be evolving more than the public realizes. Indeed, the panelists said that new technology could be accelerating human evolution rather than limiting it.
The discussion, held at the Whitney Humanities Center, was part of the Traphagen Alumni Speaker Series, which aims to give undergraduates direct access to former Yalies in a range of fields and their professional expertise.
"When I used to teach ["Introductory Anthropology"], my last lecture was always 'What does the future hold for us as a species?'" said professor Richard G. Bribiescas, director of undergraduate studies of anthropology and one of four panelists at the discussion. "At the end of the lecture, I always thought, 'Well, there's got to be more.'"
The event began with a screening of the BBC's documentary "Horizon: Are We Still Evolving?" The film questions the increasingly popular idea that, with the advent of modern technology and medicine, Darwin's "survival of the fittest" theory might no longer apply to humans.
But panelist Sarah Tishkoff GRD '91 MED '96, an associate professor at the University of Pennsylvania, said modern society has not stopped humans evolving, but merely changed the way they do it. One of Tishkoff's arguments for this lies in lactose tolerance. Humans were not originally capable of digesting dairy products after the weaning phase, she said. But with the advent of farming, people who could stomach milk were naturally better off than those who could not, leading to the now-widespread ability to digest dairy products.
"Changes in our culture and tech development can play a role … in being selected for," Tishkoff said.
Stearns, who appeared in the documentary, also argued that humans are still evolving. He said that, just as in nature, certain groups are still more likely to reproduce than others in the modern day. But this likelihood is now dependent on fertility rather than survival, he said.
"Let's suppose we have really superb health care and no [one] died," Stearns said. "This wouldn't change the fact that some people would have no children, some would have one, some would have two. And so on."
After the discussion's conclusion, Annick McIntosh GRD '14 said she found the discussion to be effective for a general audience.
"[The event] was very well done for public interest," she said. "The discussion was geared well towards thought-provoking questions."
But other attendees thought the discussion seemed to skirt delicately around the controversial issues at hand. Shayna Liberman GRD '14 said she would have liked to see more discussion of genetic engineering, adding that this field is heavily influential not just to the race's ongoing evolution, but to many modern technologies as well.
The Traphagen Alumni Speaker Series, which funded the discussion, offers funding to students, professors, and undergraduate organizations seeking to bring alumni to campus.
The New York Times, 3 March 2011
James Franco Straddles Two Roles at Yale
By Lisa W. Foderaro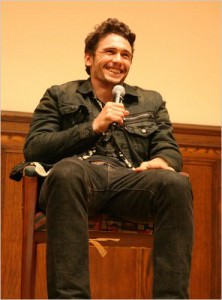 On Sunday night he was in Hollywood, as co-host of the Oscar telecast in black tie. At 9 the next morning, he was in a Starbucks in New Haven, hunched over a book and barely recognizable in a gray sweatshirt, but still wearing his tuxedo pants.
James Franco, movie star, had rushed back on the red-eye to play his other big role: Yale doctoral student. By 9:25, he was at his seat in a seminar on medieval manuscripts. "I was surprised and delighted that he made it to class," said Jessica Brantley, an associate professor of English. "He's a dedicated student."
Mr. Franco seemed to shrug off the bad reviews of what many in the national news media called an inert performance at the Academy Awards show. Yet later on Monday, he pounced on The Yale Daily News for some mild criticism of his monosyllabic Twitter style, posting a message with an obscenity scrawled in red Photoshop paint.
Yale has had its share of screen-star students, including Jodie Foster and Claire Danes, who have walked a delicate line between visibility and aloofness. But by all accounts, Mr. Franco, 32, who arrived last fall as a full-time student in Yale's Ph.D. program in English, has straddled the line like no one else — at once the retiring scholar and the focus of attention.
In campus interviews this week, several people said he had worked to keep his new role more of an intense character part than a lead.
"He's very good at not attracting attention to himself and blending in," said Michael Warner, chairman of Yale's English department, whose graduate course on Walt Whitman Mr. Franco took last semester. "He goes down in his charisma, and he looks with thoughtful attention at the people around him and doesn't display the Hollywood wattage."
But Mr. Franco, who declined to be interviewed, has hardly escaped the glare of publicity. Student journalists chronicle his every move. Twitter messages breathlessly report sighting him in his habitual hoodie and shades. A student-generated blog, James Franco Has Fun, lampoons all things Franco, soliciting pictures of "James being a crazy dude."
And the fascination is fed by Mr. Franco himself, a self-promoting — and often self-mocking — polymath who is a film director, screenwriter, painter, author, performance artist and actor, with several film projects under way. In addition to the Yale program, which could take several years, he is on track to earn a master's degree in film from New York University this spring. ("It's a full-time program," an N.Y.U. spokesman said. "You can't do it any other way.")
Last year, Mr. Franco received a master's degree in writing from Brooklyn College, and this semester he is co-teaching a course on film editing at Columbia College Hollywood, a private school in Los Angeles. It is called "Master Class: Editing James Franco — With James Franco."
Even at Yale, home of overachievers, he stands out. He has found time to undertake a multimedia musical production with about four dozen undergraduates that will open on campus in April. He is listed as a producer, but has worked with students on all aspects of the show, "The Stargazer," including casting, making script revisions and acting in the film elements.
"We're all really fascinated and awed," said Cokey Cohen, the columnist at The Yale Daily News who drew Mr. Franco's ire. "To see someone who has what we all consider to have an ideal life — with a fun, successful career — to be voluntarily doing so much schoolwork all the time is both really admirable and something I can't even comprehend."
Dr. Warner said the actor's academic ambitions were impressive. "We have had experience before with students pursuing parallel degrees," he said, "although the scale of his obligations is something that we've never seen before — but who has?"
Among students, attitudes run the gamut, from indifference to curiosity to full-blown obsession. Ileana Lucos, 21, an environmental studies major, said she and her friends were on high alert for news of Mr. Franco's whereabouts.
"Definitely, the girls are like, 'Oh, my God, I just saw him!' " she said. At Yale, she explained, "you have politically famous or otherwise famous, but not like a movie star that is Hollywood famous."
"I don't know," she continued. "There's something about him that's mysterious."
Others have had enough. "It doesn't make a difference to my experience here," said Stacey Diaz, 22, who has a double major, in international studies and African studies. "I think it's weird that people are so wrapped up in following his every move."
For his part, Mr. Franco strikes a balance between staying "almost under cover," as Dr. Warner put it, and indulging his fans. This week he posted pictures online from inside his room at the Study at Yale, a boutique hotel where he stays when not commuting to his apartment in New York.
At Atticus Bookstore Café, where he stops in a few mornings a week for coffee, the general manager, Ben Gaffney, said Mr. Franco usually took a table in the back, books in tow. "He doesn't come in to socialize," he said. "Girls go up and blush and giggle and say, 'Hi.' He just smiles and nods his head."
Still, Mr. Franco is clearly not your average graduate student. Last semester, when he and Dr. Warner needed time to discuss a paper, Mr. Franco's personal assistant helped arrange an unusual solution.
"The only time we could find time to talk was during a train ride from New York to New Haven," said Dr. Warner, who splits his time between the two. "So I met him on Metro-North."
Jorge Castillo contributed reporting from New Haven.
---
The Yale Herald, 15 October 2010
James Franco is Ginsberg, but 'sexier'
By Yasha Magarick
The word "documentary" conjures stuffy armchair conversations, awkward scenes of muckrakers and dismissive powerbrokers, or tense confessional climaxes, while the domain of "reenactments" seems to be of uncharged battle scenes, bad lighting, and unbalanced gaits. Howl, directors Rob Epstein and Jeffrey Friedman's first foray out of the former, avoids the clichés of either genre, instead entertaining the audience with the history of "Howl," one of the most important works of literature in the twentieth century. Since "Howl" also provoked an obscenity trial, it's also one of that era's most controversial. Despite devoting inadequate attention to the edginess of Ginsberg's socialism, marijuana use or Judaism, thereby risking too narrow a focus, Howl especially in the context of a pre-screening talk by three Yale English professors and a post-screening Q&A with James Franco, who is studying in the graduate school and played Ginsberg in the film raises questions about both the relationship between the artistic and legal spheres and our understanding of a man whose legacy has almost eclipsed his life.
The line to get into the screening, held at the Whitney Humanities Center this past Wednesday night, wrapped around the corner of the block, which energized the three English professors (Amy Hungerford, Michael Warner, and Langdon Hammer) during their pre-screening comments. Hammer began by noting the event poster's juxtaposition of two competing images of Ginsberg: a bearded "preacher, teacher, or maybe even professor of literature," and James Franco, famous actor and sex icon. By doing so, Hammer asked the question that defined the evening: Which one is truer, especially now that Ginsberg has been mythologized as a sort of rebbe? Warner, speaking second, lent depth to the sexier image, describing Ginsberg's "kinetic energy" in a panel at which both Warner and Ginsberg had spoken, and displaying "crazed voicing" in the short Beat Generation film Pull My Daisy by Robert Frank. Hungerford spoke last, explaining the creative dialectic between Ginsberg and Jack Kerouac and describing Franco as an actor of "immense openness," as manifested through his variety of roles (Harry Osborn in Spider Man, Scott Smith in Milk, and now this).
Howl broadens that repertoire by weaving together four narrative strands: Franco, clean-shaven and virile, reenacting the now-legendary first reading of "Howl" at the Six Gallery in San Francisco on October 7, 1955 in black-and-white segments; surrealistic animated interpretations of the poem (with Franco's voice still reading); the 1957 obscenity trial of "Howl"; and an interview with Franco as Ginsberg discussing his life and art (and occasionally flashing back to the events that led to "Howl"). All three storylines draw on codified material the poem, the trial transcript, and Ginsberg's many interviews openly playing with it in very different ways. In his closing oration, the defense lawyer (Jon Hamm) declares, "It is not for us to choose the words"; although the filmmakers chose certain of Ginsberg's words over others, they chose almost none of their own. Under the massive burden of that conceit, the film is remarkably successful at reverentially adapting Ginsberg's words. Yet the film's openness extends only so far. None of the actors or actresses besides Franco are given the chance to develop their characters. Although "Howl" may be a catalogue of "the best minds of a generation," Howl is entirely concerned with Franco's Ginsberg.
And what sort of person is this Ginsberg? In the interviews, his hunched shoulders and short beard accentuate Franco's Jewish lineage; he drags words together in a particularly rabbinic way. But that's it for Howl's treatment of Ginsberg's Judaism an almost stereotypical offering of the hands, palms up, shoulders thrust forward. The rest is Franco's sexy artist vibe: energetic readings of "Howl" that contrast sharply with many early recordings of "Howl" which are mostly in a nasal, humble monotone. Franco vigorously inflects his sentences, sharpening them and varying emphasis within them. During the post-screening Q&A, an audience member teased him: "James, you were good….Were you too good?" Franco, who seems well-versed in many things Ginsberg, acknowledged the dissonance: "Ginsberg's early readings are pretty flat; he's very serious." But Christopher Grobe, a fifth-year graduate student and the moderator after the film, muddied the waters by mentioning that there was no recording of the Six Gallery reading, but that an early recording of Ginsberg reading "America" one of his other masterpieces has him "doing the different voices." I later listened to the recording (it's on YouTube and worth a listen), and was shocked at Ginsberg sounding like Woody Allen doing stand-up comedy, collecting laughs after every line so that the line "Everybody's serious but me" resounds.
Almost as amusing are Howl's courtroom scenes, most of which consist of English professors declaring that "Howl" is of no literary value and then stumbling over their literary theories under cross-examination. At one point the prosecutor (David Strathairn) reads aloud a particularly sexually explicit passage, evidently savoring it; the judge (Bob Balaban) allows an awkward pause and then pointedly asks, "What's your question?" But the main thrust of this strand that censorship is wrong and rigid literary theories are delusions is obvious. That political and legal machines should not control artistic expression is trite, albeit true; the reverse process how aesthetic considerations (such as Ginsberg's feelings about cities) impact the public sphere (such as the disintegration of America's cities) is far more compelling. Franco, recognizing in the Q&A what he called "the silliness of the courtroom," remarked "All the case did was make Howl more well-known." Indeed, the case is neither as important for the demise of obscenity law as other cases of its kind nor as humorous as Ginsberg's later appearances in court. If the moment at which Judge Clayton Horn handed down the decision in 1957 was dramatic, Balaban's delivery makes even the most avid fans of obscenity trials shrug. Most of all, the courtroom scenes fail because of Ginsberg's absence in them. There is no one to fill the void left by Franco's Ginsberg.
Where the courtroom scenes disappoint, the animation surpass expectations. Its free interpretation of the poem allowed it to appropriate the text in ways that even Franco cannot. Warner, discussing the panel he shared with Ginsberg, mentioned that Ginsberg emphasized the queerness of not only his homosexuality, but also his socialism, Judaism, and pot-smoking; "all things he saw as the alliance of the marginalities." Judaism and marijuana having become much less controversial over the years, their limited role in Howl aligns with the film's explicit intention to make Ginsberg relevant to us. But the filmmakers also risk miscasting the poet-prophet's sociopolitical critique as "angel-headed hipsterism" a sort of fashionable disgust with the system. Ginsberg was unfashionable; he was radical. Only in Eric Drooker's vivid, imaginative animation (especially of the poem's second part) is that political commentary realized. But perhaps the filmmakers just know their audience very well; when at one point palm trees morph into a forest of phalluses, expect someone behind you to laugh nervously as they did on Wednesday night. Sex is timeless, the Internationale, evidently not.
Ultimately, the film succeeds in both entertaining and provoking the audience. But the pre-screening discussion and post-screening Q&A were so essential to that provocation that I wonder if Howl can thrive by itself. I no longer doubt that the young Ginsberg was a lot sexier than the bearded teacher that I grew up hearing and reading, more the virile artist than the wise prophet, and his life more of a Bildungsgeschichte than one of an already-crystallized person. In that respect, Franco deserves the highest acclaim that the academy can afford him: He has read Ginsberg anew.
---
Yale Daily Bulletin, 8 October 2010
'Howl' keeps it real
By Snigdha Sur
James Franco may have been a large part of the draw for students attending a special screening of "Howl," directors Rob Epstein and Jeffrey Friedman's take on beat poet Allen Ginsberg's revolutionary poem. But the Whitney Humanities Center screening Wednesday evening left the audience with much more.
English professors Amy Hungerford, Michael Warner and Langdon Hammer opened the event with their wise words, providing an intriguing framework for the rest of the night.
"Ginsberg is performing the role of preacher, or possibly professor, of literature," Hammer said. "There is a complicated loop between poetry and performance and teaching both inside and outside the academy."
Warner, a Walt Whitman scholar, reflected on Ginsberg's relation to the 19th-century poet, who introduced blank verse to American poetry. Warner, who once sat on the same panel as Ginsberg, said Ginsberg "saw all American literature in some very deep sense as queer."
"Howl" explores many questions that all readers and writers have: What makes literature literature? How do you know if you have created something new? Isn't everything that is written based on something that has been read or written before?
Hungerford, who has been teaching about the Beat Generation for several years, explored this idea further by reading aloud letters between novelist Jack Kerouac and Ginsberg.
But why all the fuss over a poem? Allen Ginsberg's "Howl" personified an entire generation.
People "who let themselves be fucked in the ass by saintly motorcycles, and screamed with joy."
People "who blew and were blown by those human seraphim, the sailors, caresses of Atlantic and Caribbean love."
People "who howled on their knees in the subway and were dragged off the roof waving genitals and manuscripts."
The movie itself is mixed media, a pastiche of black-and-white home video renditions of Ginsberg's early life stitched together with color footage of an interview with Ginsberg after the publication of "Howl." During these latter segments, the audience becomes the interviewer because the interviewer himself is never shown. These scenes are set against the background of a court case attempting to asses the literay value of the controversial poem.
Though the movie does not use any actual footage from Ginsberg's life, the combination of genres — home video, court drama, interview, poetry reading and animation — makes the film seem like a biopic with a split personality. For example, a scene that begins as a home video, with Franco sitting down to type "Howl," transitions into colorful animation, taking the audience on a ride through the night sky of the dark city, along train rides, following people as they jump off buildings, and passing by saxophone players as they belt out throbbing jazz.
Another portion of the film takes place in the courtroom, where lawyers and witnesses battle over whether the poem is obscene, inappropriate or even literature at all. This is also where we meet some of the most memorable figures of the movie — the literary critics, professors and lawyers.
"The way it's structured is incredibly important," Franco said in a question-and-answer session following the screening. "All of those things allow us to get into the poem in a certain way."
The film begins with the young Ginsberg (James Franco) looking uncomfortable, unsure of himself. He is a 29-year-old unpublished poet about to read a poem in four parts, as the white text on the screen before the scene opens explains. Franco reads "Howl" with a deep rhythm that moves you, and lingers on unexpected words. The setting changes after only a short time to New York City in 1957, where a bearded Ginsberg looks out at the audience-as-interviewer.
"I assumed I could write anything I wanted to because it wouldn't be published," Ginsberg says.
The film's sections of interview allow the audience to understand how Ginsberg wrote — how he valued the unexpected by choosing "screamed with joy" instead of "screamed with pain." Or how words jumped out at him because of the way they sounded. Good poetry for him was the "ability to commit to writing the same way that you are."
It's about being real.
The film's directors captured Ginsberg's sentiments by staying true to his life.
"Everything that was said in the movie is based on real transcripts. I read the court trials and I was like, 'That's our script!'" Franco said. "The interviews I'm giving are all the interviews he gave."
But the perspective of those surrounding Ginsberg is conspicuously missing. Surprisingly, we don't hear from Ginsberg's so called muses: his parents, lovers and friends.
If the movie is a compilation of interviews and court transcripts, failing to capture the verbal exchanges Ginsberg had with those closest to him — for example, in scenes with Peter Orlovsky (Aaron Tveit), Ginsberg's lover never speaks — leaves a large vacuum that the movie fails to fill.
When we do gain insight into the poet's relationships, they are some of the most powerful moments of the movie. When Neal Cassady (Jon Prescott) breaks Ginsberg's heart, or when he is committed to a psychiatric institution, the movie doesn't pause for us to commiserate. Ginsberg, normally so expressive, sounds flat and inhibited.
But maybe the movie isn't supposed to capture every facet of Ginsberg's life.
"It's not a documentary. It's a piece of art," Franco said.
The filmmakers had been approached to make a documentary but soon realized that the best way to portray the artist would not be through a traditional route.
"How can we get young Ginsberg here? How can we make it feel more immediate?" Franco said.
The movie does succeed in creating a sense of immediacy. Franco/Ginsberg's hipster glasses — and the word hipster in the poem itself — are reminders that words had different connotations in a post-World War II America.
"'Howl' and [Kerouac's] 'On the Road' give very clear and strong models of how one's life can be turned into pieces of literature," Franco said.
"Howl," if anything, reminds us of the joy of creating.
Yale Daily Bulletin, 27  October 2010
Punk Poet and Performer Patti Smith Comes to Yale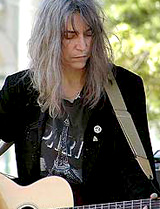 Legendary songwriter, artist and activist, Patti Smith will be at Yale for two separate evening events sponsored by the Whitney Humanities Center: On Nov. 3, she will introduce a screening of the film "Patti Smith: Dream of Life" (2008). Following the screening of the 109-minute documentary, Smith will join the director Steven Sebring in a discussion of the film, which was 11 years in the making. On Nov. 4, Smith will perform and read from her work, most notably from her recently published autobiography, "Just Kids."
Both events, which are free and open to the public, take place at 7:30 p.m. in the auditorium of the Whitney Humanities Center, 53 Wall St. Seating is limited.
Sometimes referred to as the "Godmother of Punk," Smith was born in 1946 and, like her sometime collaborator and fellow-performer Bruce Springsteen, grew up in New Jersey. Smith burst on the punk rock stage in 1975 with her debut album, "Horses."
Smith often incorporates her own poetry into her songs, and she cites French poet Arthur Rimbaud as a major influence. Among her many honors: being named a Commander of the Order of Arts and Letters by the French Minister of Culture, being inducted into the Rock and Roll Hall of Fame, and receiving an honorary doctorate from Pratt Institute, where, though never actually enrolled, she spent many of her formative years in the company of Robert Mapplethorpe and his fellow art students. In "Just Kids," Smith talks about her long-time relationship with the photographer.