It's hard to miss, but I passed it twice before realizing what I was looking at. Just in front of the gare centrale in the Plateau region of Dakar, in the middle of a rond-point, is a bronze statue of two men atop a white pillar. The area is crowded with tourists waiting for the ferries to Gorée Island, and I have to navigate a whirl of taxis in order to get close enough to make out a white marble plaque that reads "La Place du Tirailleur." On the left, with his raised arm holding an olive branch, is a mustachioed French poilu, a trench soldier from WWI. On the right, immediately recognizable by his characteristic flat cap, is a Senegalese tirailleur, the archetypal and somewhat mythic figure of the West African soldier. The Frenchman has his arm around the tirailleur's shoulder. The gesture is irksomely, though perhaps unsurprisingly, paternal: it turns out the sculptor was French.
In 2019, I was in Dakar for the summer doing research for my dissertation and learning Wolof. I knew a bit about the tirailleurs and had seen Ousmane Sembène's film Le Camp de Thiaroye (1988), about a little-known 1944 massacre of West African soldiers by the French at an army base just outside of Dakar. But a dissertation has a way of drastically narrowing one's field of vision, so I had missed some of the early buzz around David Diop's novel Frère d'âme (Seuil, 2018), told from the perspective of a tirailleur. It was only this year, living in Paris, that I finally picked up a copy.
On June 2, Diop (b. 1966) became the first French writer to take home the International Booker Prize for the English translation of Frère d'âme (literally, "soul brother"), elegantly translated by the American poet Anna Moschovakis as At Night All Blood Is Black and published by Farrar, Straus & Giroux. Even before its translation into English, the French novel had received rave reviews and garnered unanimous praise from critics, winning the prestigious Prix Goncourt des Lycéens and the Prix Ahmadou Kourouma.
Born in Paris to a French mother and Senegalese father, Diop grew up mostly in Dakar. Today, he is a specialist of eighteenth-century literature at the University of Pau. His first novel, 1889, l'Attraction universelle, published by L'Harmattan in 2012, follows a delegation of Senegalese men and women who come to France as part of the 1889 Exposition universelle in Paris. At Night All Blood Is Black moves forward in time, to World War I, offering a gripping and altogether unsettling portrayal of trench warfare from the perspective of a Senegalese soldier fighting for the French on the Western Front.
At Night All Blood Is Black reads like a thriller and unspools like a dark poem. Just under 150 pages, this slim novel is a breathtaking demonstration of literature's capacity to render even the grisliest, most nightmarish of subjects with exquisite beauty. Through his narrator-protagonist, Alfa Ndiaye, Diop brings us into the mind of one the most overlooked figures in the history of French empire, the tirailleur sénégalais. The tirailleurs were West African conscripts, mostly Senegalese, who fought in the French army from the mid-nineteenth century onward and served during both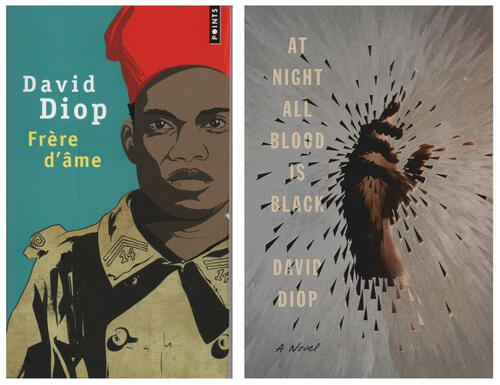 World Wars. As early as 1857, Louis Faidherbe, appointed Governor of Senegal in 1854, had dreamt up the idea of a force noire—an army of colonized Africans who would serve as an extension of French imperial power. Most of the first tirailleurs were enslaved men and prisoners of war, whom the French military "purchased" from West-African enslavers on ten-year indenture contracts; later, the French relied on recruitment, conscription, or voluntary enlistment, often attracting soldiers through promises of citizenship. As Diop depicts in his novel, the tirailleurs made up a significant component of French troops during WWI (around 200,000). The French often outfitted the tirailleurs with machetes to play into racist stereotypes that would intimidate German soldiers.
At Night All Blood Is Black tells the story of one Senegalese soldier's unraveling. The novel opens with Alfa grieving over the mangled body of his childhood friend and "more-than-brother," Mademba Diop, who has been disemboweled by the bayonet of blue-eyed German soldier. Vowing vengeance and spurred on by a whispering voice in his head, Alfa sets off each night in search of a blue-eyed enemy whom he ties up and kills, taking with him a severed hand as his grisly trophy.
Gradually, Alfa amasses a collection: seven hands in total. With each new addition, we become more aware of our narrator's descent into madness. But even as Alfa's narration becomes increasingly erratic, and his behavior more and more troubling, we cannot look away. With haunting lyrism, Diop holds us captive—right up until the novel's final, shocking twist.
An unflinching depiction of the human cost of a colonial project that led to young Senegalese men dying far from home under the French flag, Diop's novel is certain to continue to find audiences in Senegal, France, and now, the English-speaking world. For specialists and enthusiasts of West African literature, the Booker Prize confirms what we already know: that there is a demand for West African fiction in translation. Diop's novel joins the work of other contemporary Senegalese authors writing in French and now available in English, such as Fatou Diome—known especially for her novel Le Ventre de l'Atlantique (A. Carrière, 2003), translated into English as The Belly of the Atlantic (Serpent's Tail, 2006)—and Mohamed Mbougar Sarr, whose novel Terre ceinte (2014), recently translated as Brotherhood (Europa, 2021) also won the Prix Ahmadou Kourouma. All of these texts are available at Sterling Library, with the exception of Brotherhood; I've recently put in an online purchase request for the English edition of Sarr's novel, as Yale's collection of African literature in translation continues to grow.
---
Doyle Calhoun is a rising fifth-year PhD candidate in French whose work focuses on suicide in African literature and film, with a particular focus on Senegalese literature in French and Wolof. His work has appeared in journals such as Research in African Literatures, Paragraph, Nineteenth-Century French Studies, and the Canadian Journal of African Studies.