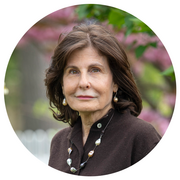 Alice Kaplan, Sterling Professor of French, became director of the Whitney Humanities Center in summer 2020. She works at the intersection of literature and history, with her teaching and research focused on the Second World War, the Liberation, and the Algerian War, and on the writers Céline, Proust, and Camus. A literary translator and an historian of literary translation, Kaplan is a founding member of the Yale Translation Initiative. She is a former Guggenheim Fellow, a member of the American Academy of Arts and Sciences, and a recipient of the French Légion d'Honneur as well the Los Angeles Times Book Prize in History (for The Collaborator) and the Henry Adams Prize (for The Interpreter).
Here at the Whitney, she will focus on outreach to our many partners in the humanities, from RITM (Yale Center for the Study of Race, Indigeneity, and Transnational Migration) to the Beinecke Rare Book and Manuscript Library to Public Humanities and the undergraduate Humanities Program.  She is passionate about the Whitney Fellows lunches and Whitney working groups, including Gary Tomlinson's wonderful Humanities/Humanity program, and she looks forward to curating our two distinguished lecture series, the Tanner Lectures on Human Values and the Finzi-Contini Lectures.
She is most excited about our move to 320 York and for the opportunity to support and animate an unprecedented humanities collective at Yale. In addition to sponsoring talks and conferences in the humanities, she seeks new ways to support and call attention to our faculty's teaching, research, and publication—to make visible the strength of our powerful interventions at Yale and beyond.
Selected book publications:
Reproductions of Banality: Fascism, Literature and French Intellectual Life (1986)
Sources et citations dans Céline, 'Bagatelles pour un massacre' (1987)
The Collaborator: The Trial and Execution of Robert Brasillach (2000)
The Interpreter (2005)
Dreaming in French: The Paris Years of Jacqueline Bouvier Kennedy, Susan Sontag, and Angela Davis (2012)
Looking for The Stranger: Albert Camus and the Life of a Literary Classic (2016)
French Lessons, second edition with a new Afterword (1993, 2018)
Forewords to two new volumes of Camus essays: Committed Writings (2020) and Personal Writings (2020)
Forthcoming (in French):  Turbulences, USA.  A short diary of American life since 2016.
Selected interviews:  
Interviewing Michael Gorra on his new book The Saddest Word: William Faulkner's Civil War. Paula Cooper Gallery, August 25, 2020
 "A Matter of Common Decency": What Literature Can Teach Us about Epidemics. NPR, April 4, 2020
The Plague by Albert Camus. The "How Have I Not Read This?" book club, with Emily St. John Mandel and Laura Marris, May 6, 2020
The Stranger contre The Outsider. Un combat pour le titre de l'Étranger. Collège de France, March 13, 2018
La Fabrique mondiale de l'histoire avec Alice Kaplan. France Culture, September 23, 2016