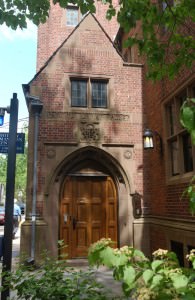 The Whitney Humanities Center is an interdisciplinary institution that reflects Yale University's longstanding commitment to the humanities. The Whitney promotes research and scholarly exchange across fields and is especially committed to supporting the activities of faculty and students whose work transcends departmental boundaries. The Whitney is also the home to a broad-based intellectual community defined by a distinguished fellowship that meets weekly, as well as housing the Humanities Program, an interdisciplinary council of scholars from eleven departments responsible for two of Yale's most prestigious interdepartmental undergraduate programs: Directed Studies and the Humanities major.
Beyond this, the Whitney hosts a wide array of events, from international symposia and lectures that bring prominent visitors to the university to small "working groups" that meet regularly for a free and informal exchange of ideas among faculty and students on topics of more than disciplinary interest. Highlights of each year's activities at the Whitney include the prestigious Tanner Lectures on Human Values, given by such notable figures as Steven Chu and John Adams; the much-anticipated series of public lectures associated with the Franke seminars in the humanities and the Shulman seminars in the sciences and humanities; the Finzi-Contini lectureship in European literature, which has been delivered by such renowned speakers as Orhan Pamuk and W. S. Merwin; the lively and diverse Music at the Whitney concerts featuring undergraduate musicians and guest artists; and the screenings, festivals, conferences, workshops, and visits by distinguished filmmakers sponsored throughout the year by Films at the Whitney.
Since 1981, the Whitney Humanities Center has been housed in what was formerly the Trinity Parish Church House. Yale University acquired the building in 1980 as a gift from John Hay Whitney, BA 1926, MA HON. 1956, and its three floors accommodate an art gallery, conference rooms, seminar spaces, offices, and support facilities, as well as a state-of-the-art lecture hall and auditorium.